Garmin Aera 796
Garmin Aera 796
SPECIFICATIONS
PHYSICAL & PERFORMANCE
| | |
| --- | --- |
| | 5.1″W x 8.0″H x 1.5″D |
| DISPLAY SIZE: | 3.6″W x 6.0″H, 7.0″ Diagonal, 480 x 800 pixel resolution |
| DISPLAY TYPE: | dual-oriented, bright, color WVGA TFT with adjustable backlighting & selectable screen orientation |
| WEIGHT: | 26.4 oz with battery pack |
| BATTERY: | rechargeable, replaceable Lithium-ion |
| BATTERY LIFE: | up to 3 hours with full backlight and GXM 40 connected (8 hours with 50% backlight) |
| WATERPROOF: | no |
| VOLTAGE RANGE: | 11-40 |
| SBAS/WAAS RECEIVER: | high sensitivity with WAAS position accuracy |
| IFR OR VFR: | VFR |
MAPS, DATABASES & MEMORY:
| | |
| --- | --- |
| BASEMAP: | Yes |
| NAVIGATION DATABASE (INCLUDES JEPPESEN DATA): | Yes |
| TYPES OF JEPPESEN DATA: | full & ARTCC, FSS frequencies, and final approach waypoints |
| NAVIGATION DATABASE COVERAGE AREAS: | Americas |
| PRELOADED TERRAIN DATABASE: | Yes |
| PRELOADED OBSTACLE DATABASE: | Yes (US & Europe only) |
| PRELOADED SAFETAXI AIRPORT DIAGRAMS: | Yes (US only) |
| PRELOADED AOPA AIRPORT DIRECTORY: | Yes (US only) |
| PRELOADED GARMIN FLITECHARTS: | Yes (US only) |
| PRELOADED LOW & HIGH ALTITUDE ENROUTE AIRWAYS: | Yes |
| PRELOADED PRIVATE AIRPORTS: | Yes (US only) |
| PRELOADED STREET MAPS: | No |
| ABILITY TO ADD MAPS: | Yes |
| ACCEPTS DATA CARDS: | Yes (SD Cards) |
| BUILT-IN MEMORY: | Internal Solid State |
| WAYPOINTS/FAVORITES/LOCATIONS: | 3,000 |
| ROUTES: | 50 |
FEATURES & BENEFITS:
| | |
| --- | --- |
| MOVING MAP: | yes |
| PATENTED PANEL PAGE: | yes |
| HSI (GPS BASED): | yes |
| IFR MAP MODE: | yes |
| TRAFFIC INFORMATION SYSTEMS (TIS) ALERTS COMPATIBLE: | yes |
| AUDIBLE TERRAIN ALERTS: | yes |
| TERRAIN RESOLUTION: | standard |
| SMART AIRSPACE FEATURE: | yes |
| AUTOMATIC LOGBOOK: | yes |
| SEPARATE SERIAL & USB INTERFACES: | yes |
| VOICE PROMPTS: | no |
| SPEAKS STREET NAMES: | no |
| LANE ASSIST: | no |
| 3D MAP VIEW: | no |
| BLUETOOTH WIRELESS TECHNOLOGY: | no |
| SPEED LIMIT INDICATOR: | no |
| TRAFFIC COMPATIBLE: | no |
| CUSTOM POIS: | no |
| XM WX WEATHER & RADIO: | yes |
IN THE BOX:
| | |
| --- | --- |
| STANDARD: | aera 796 Yoke mount DC cigarette adapter 12/24 volt cradle Home AC cradle dock XM USB extension cable GA 25 remote antenna with a suction cup mount USB cable Carrying case Touchscreen cleaning cloth Quick reference guide Complimentary single database update Pilot's Guide e-version (viewable on the document viewer) |
Compare
Description
Garmin Aera 796
View detailed routes and traffic information in real-time on the Garmin Aera 796 GPS Receiver's 7-inch, color, TFT touchscreen display. Voice-enabled advanced flight navigation features in this Garmin touchscreen GPS system narrate charted course in real-time. Stay on course to your destination, navigating with this Garmin GPS navigation system. The Garmin Aera 796 GPS Receiver's integrated 3D Vision, Touchscreen updates air traffic delays and other flying objects in real-time. Additionally, this Garmin GPS navigation system has a digital document viewer, scratch pad and pre-loaded geo-referenced AeroNav IFR and VFR en route charts. This Garmin touchscreen GPS system's 3D Vision uses GPS position, and a terrain database for recreating a behind-the-aircraft perspective of the topographic landscape.
Product Identifiers
Brand Garmin

MPN 010-00967-10

UPC 0753759979454

Model Aera 796
Dimensions
Weight 1.65lb.

Depth 1.5in.

Height 8in.

Width 5.1in.
Additional Product Features
Battery Type and Quantity Rechargeable Li-ion Battery

Unit Size  Not Applicable

Features Bluetooth Ready

Usage Aviation

Screen Size 7in.

System Type Portable, Handheld

Type Aviation
3-D Navigation with MFD and EFB Capability
Rugged and robust, purpose-built aviation design with built-in GPS and 7-inch sunlight-readable touchscreen
3D Vision perspective view displays terrain, obstacles, airports, traffic and more
Cockpit connectivity via Connext® using compatible devices¹
Class I/II EFB electronic flight bag provides access to global georeferenced charting options, document viewer and more
Easily access street intersections for quick navigation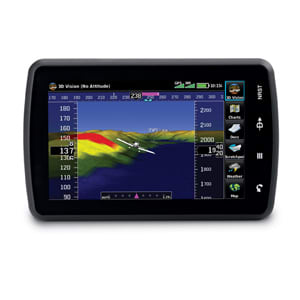 See in Virtual 3-D
Revolutionary new 3D Vision technology shows a virtual 3-D behind-the-aircraft perspective of surrounding terrain derived from GPS and the onboard terrain database — a feature previously only available in our panel-mount avionics. Simply slide your finger across the touchscreen to rotate the view and show land and water features, obstacles, runways and airport signposts in relative proximity to the aircraft.
Using its forward-looking terrain avoidance capability, aera 796 predicts in advance where towers or obstacles may exist and shades the landscape with amber or red overlays to indicate those areas. 3D Vision and other flight data are presented smoothly and continuously thanks to its internal GPS that provides position updates 5 times per second (5 Hz).
aera 796's bright 7-inch diagonal high-definition sunlight-readable display makes this detailed mapping easy to see in any lighting conditions and works in both portrait and landscape mode. The physical design has been optimized to fit on the yoke or for use as a knee-mounted device. There are only 4 touch keys on the bezel for quick navigation to the most frequently used functions. All other functions are quickly accessed through intuitive onscreen icons with labels. This unique touchscreen interface even allows you to quickly pan across the map screen and pinch to zoom.
Go Paperless
aera 796 fullfills the role of either a Class I or Class II electronic flight bag, greatly reducing the need to rely on paper charts in the cockpit. Initial U.S. georeferenced VFR sectional and IFR Enroute charts come preloaded that show your aircraft's position overlaid directly on the relevant chart. Optional European and Canadian VFR and IFR charts are also available. When in IFR map mode, the 795 can display victor airways, jet routes, minimum enroute altitudes and leg distance, much like what's found on traditional enroute charts. Initial georeferenced Garmin FliteCharts® provide approach charts and airport diagrams for the U.S., Canada and Europe, while pilots who prefer Jeppesen charts and diagrams can use optional Garmin ChartView service, which utilizes Jeppesen's extensive library to provide global georeferenced charting capabilities.
aera 796 also includes a robust document viewer, so you can easily pull up weights and balances, flight manuals, raster charts or a variety of electronically formatted materials you download to the device. A "scratch pad" feature also allows you to quickly jot down clearances and other pertinent notes while en route, while a checklist viewer allows you to create customized and interactive electronic checklists.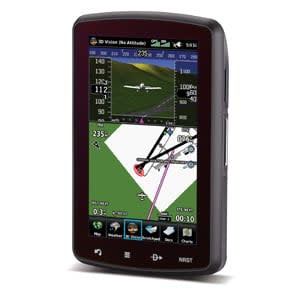 Enhance Situational Awareness
aera 796's built-in terrain and U.S. and Canadian obstacles database not only shows contours in 3D Vision mode, but also allows for a top-down view of your entire route. To help you navigate around unfamiliar airports, SafeTaxi® provides detailed taxiway diagrams and position information for many U.S., European or Canadian airports, while a private airport and heliport database greatly expands your emergency "nearest" options. FBO, ground transportation, lodging and other facility information for most U.S. airports are also available through preloaded AOPA Airport Directory Data; international pilots may choose to opt for global AC-U-KWIK airport directory data instead.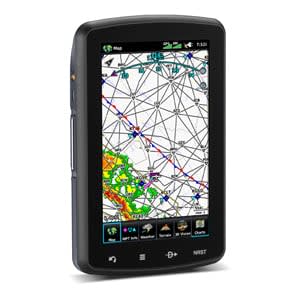 Access Weather and Radio
With the optional GXM 42 antenna, aera 796 offers access to high-resolution weather and audio entertainment right in the cockpit (subscription required). An optional GDL 39 series datalink can also provide access to ADS-B weather and traffic. All of this data can be overlaid directly onto navigation and topographic map databases.
Expand Your Portable
With 2 serial ports, aera 796 allows for simultaneous connectivity with other hardware. With an optional GTX 330 Mode S Transponder Interface, you can access Traffic Information Service (TIS) alerts, where available, right on the device while also sending frequencies to a GTR 225 Comm radio or GNC 255 Nav/Comm. It can even relay position reports to other devices.
By adding optional City Navigator maps, both helicopter and fixed-wing pilots add street addresses as waypoints or direct-to destinations. The device includes an SD™ card slot for easy updates and expansions; update, manage and purchase the latest aviation data for your aera through flyGarmin.
¹Check Supported Devices for the latest feature and compatibility information
*GPS receiver has a nominal operating velocity range of 0 – 800 kts (411 m/s).
Weather-capable with the GXM 42 or GDL 39 series